Laboratory automation solution for compound management
A whole new level of throughput, flexibility and confidence
Designed to simplify compound management workflows, Tecan's groundbreaking Fluent platform brings unsurpassed speed and flexibility to plate formatting and copying. Throughput and accuracy are everything. So we've engineered a compact automation solution with three arms that work in parallel across a Dynamic Deck featuring unparalleled plate capacity. Discover an instrument that speaks the language of your laboratory by making compound management more simple, efficient… and fluent.
Carousel or Stacker for microplates or disposable tips
Microplate or tube handling
Automated switching between 96 or 384 tips
System care or method starter
Library Maintenance
Reformatting
Tube-to-plate transfers
Assay plate preparation
Daughter plates
Hit picking
Serial dilution for IC50/EC50
For more details on Fluent's performance and capabilities in Compound Management, click on the following application notes.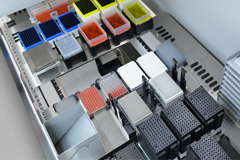 More functionality and flexibility in less space
Industry-leading deck capacity offers high-density plate and tip storage in a small footprint. Unique, interchangeable design allows the modular worktable to be easily configured and reconfigured for plate reformatting, hit picking, tube-to-plate transfers, plate stamping and more.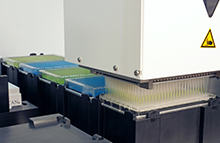 Optimize performance with the industry's most versatile Multiple Channel Arm
Adjusts to 96, 384 and 1536 plate formats on the fly by swapping between 96- and 384-channel adapters. Makes it easy to optimize the performance of plate reformatting, stamping and diluting.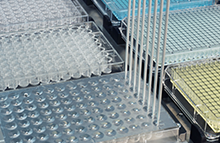 Flexible Channel Arm with fixed, steel tips broadens pipetting capabilities
Washable fixed tips made of coated steel offer reliable septa piercing and expand the instrument's wide dynamic range down to below 0.5µl. The Flexible Channel Arm is also compatible with Tecan's disposable tips to suit the requirements of different applications.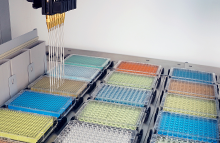 DMSO as system liquid for fast dilutions
Fixed tips can be primed for fast, automated compound dilutions or pre-filling of dilution plates. The steel tips can be washed from inside for ultimate system cleanliness and more reliable results.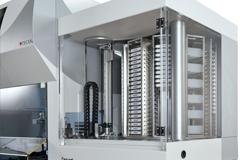 Device integration for fully automated workflows
Seamlessly integrates with a broad range of complementary peripherals including 2D and plate barcode readers, high-density plate and tip stackers, plate sealers, and random access carousels. Run every step of your workflow on a single instrument for greater ease, convenience and productivity.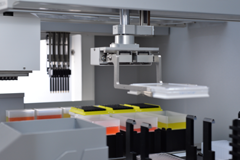 Robotic Gripper Arm for versatile tube or plate handling
Smoothly and quickly delivers labware—including plates and tubes—to the instrument's pipetting arms and integrated devices without interrupting the pipetting process. Provides fast lid removal and replacement to minimize evaporation for reliable, reproducible results.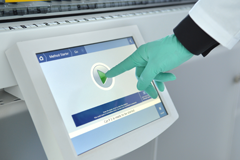 Exceptional ease of use
Built-in touchscreen interface guides users through daily tasks for fast, consistent, efficient operation. Customizable to suit specific users or applications, the software makes it easier than ever to generate reliable results while increasing throughput and productivity.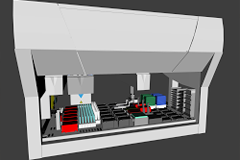 3D simulation for safe runs and compound conservation
Eases development of new assays and enables you to visualize a program, test new assays without using reagents or consumables, and estimate timing accurately and precisely.
Easy programming and operation
FluentControl™ software simplifies even the most challenging applications. Use drag & drop interfaces, 3D graphics, and single smart commands to distribute reagents or transfer samples.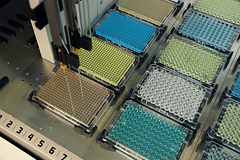 Worklisting for greater speed and efficiency
Create everything from pipetting steps to hit picking processes in an Excel or text file and then run them with FluentControl software.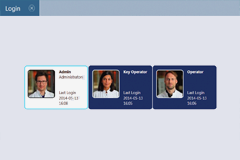 Enhanced process security
Integrated user management controls method permissions. Operators can even set personalized favorites on the touchscreen.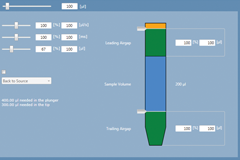 Powerful liquid handling
FluentControl offers robust default liquid definitions and makes it easy to change parameters for any fluid.
Extend the boundaries or automation
Fluent's finger exchange system automatically swaps labware fingers on the fly – move tubes to balance and then plates to a centrifuge or storage device.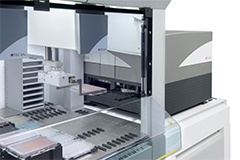 Reduce Risk and increase confidence
Even in the event of a power out or computer crash FluentControl reinstates the interrupted run and presents clear directions to the operator to restart thus saving time and reagents.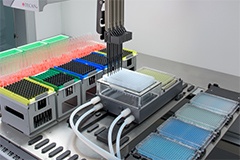 Increase hit picking productivity
Combine two flexible channel arms on one system for the ultimate flexibility and speed in hit picking or tube to plate transfers.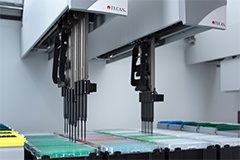 Tube and plate security
Keep track of all labware and samples with several barcode reading options on the deck, on devices or using the Robotic Gripper Arm to carry the reader.
Become more fluent in Tecan's revolutionary new automation solution by selecting from a library of resources.
Within the USA for research use only. Not for clinical diagnostics.